Medical art exhibition ANATOMY & BEYOND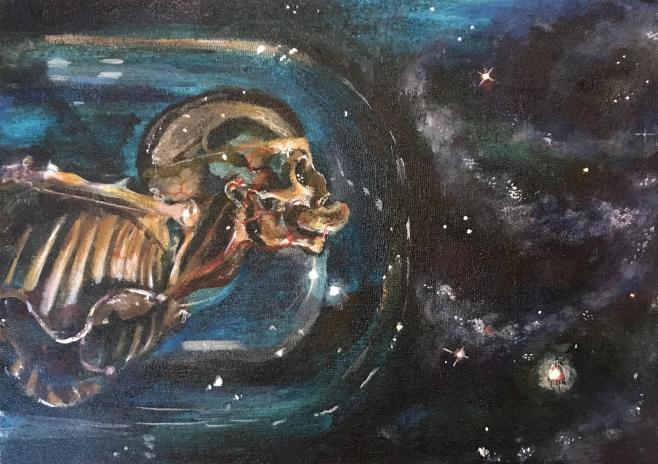 International exhibition "ANATOMY & BEYOND" explores new ways in which we envisage the role of art and anatomy, reimagining humanity on Earth and beyond: in here and now, and in possible, post-terrestrial futures. Seven works of medical art and bioart are integrated into the museum's permanent exhibition.
Medical artist Pascale Pollier (Belgium/UK) is the exhibition's curator and has brought together six more international artists who use art to explore science. In her video work, artist Nina Sellars (Australia) has revived a model of an anatomised hand from the 19th century that is housed in the collection of the Anatomy Museum of the University of Melbourne, while artists Andrew Carnie and Eleanor Crook (UK) speculate about the impact that space travel has on the human body and spirit, and Bryan W. Green (UK) re-interprets the dual nature of energy. Meanwhile, artist Mara G. Haseltine (US) reflects on the potential of a drug that inhibits Coronavirus replication in her work "SARS Inhibited", and bioartist Joe Davis (US) gives hope to the world during the pandemic by bringing more than 200 million billion angels to the Anatomy Museum. Based on Islamic traditions and modern DNA propagation methods, Davis encoded the angels into a DNA molecule that covers a 0.75 mm small head of a pin.
Exhibition is curated by medical artist Pascale Pollier. It is a collaborative project of AEIMS (Association Européenne des Illustrateurs Médicaux et Scientifiques), MAA (The Medical Artists' Association of Great Britain), BIOMAB (Biological and Medical Art in Belgium) and ARSIC (Art Researches Science International Collaboration). Event is supported by the Embassy of  Belgium in Sweden and Latvia, General Representation of the Government of Flanders in Poland and the Baltic States, Vesalius Trust and Honorary Consul of Belgium in Latvia Dr. Didzis Gavars.
Tā kā Rīgas Stradiņa universitāte ir publiska iestāde, pasākuma laikā jūs varat tikt fotografēts un/ vai filmēts. Fotogrāfijas un video var tikt publicēts universitātes mājaslapā, sociālajos medijos u. tml. Vairāk par savām tiesībām un iespēju iebilst pret šādu datu apstrādi varat uzzināt RSU Privātuma politikā. Ja iebilstat pret personas datu apstrādi, lūdzam par to informēt, rakstot uz rsu

rsu[pnkts]lv.
As Rīga Stradiņš University (RSU) is a public institution you could be photographed and/or filmed during the event. Your personal data might be used to further the interests of RSU, e.g. for marketing or communication activities (incl. social media coverage). Read more about your rights see the RSU Privacy Policy. Should you have any objections to your personal data being processed please inform us via e-mail at rsu

rsu[pnkts]lv.