Eleanor Crook: Scenes From the Life and Lonely Death of the Astronaut Athanasius
ANATOMY & BEYOND
Eleanor Crook
Scenes From the Life and Lonely Death of the Astronaut Athanasius
Eleanor Crook is a British sculptor with a special interest in mortality, anatomy and pathology. She exhibits her work internationally in both fine art sand medical and science museums. Pictured: Eleanor Crook at the Hunterian Museum with one of her World War I plastic surgery models. Read more about her work here.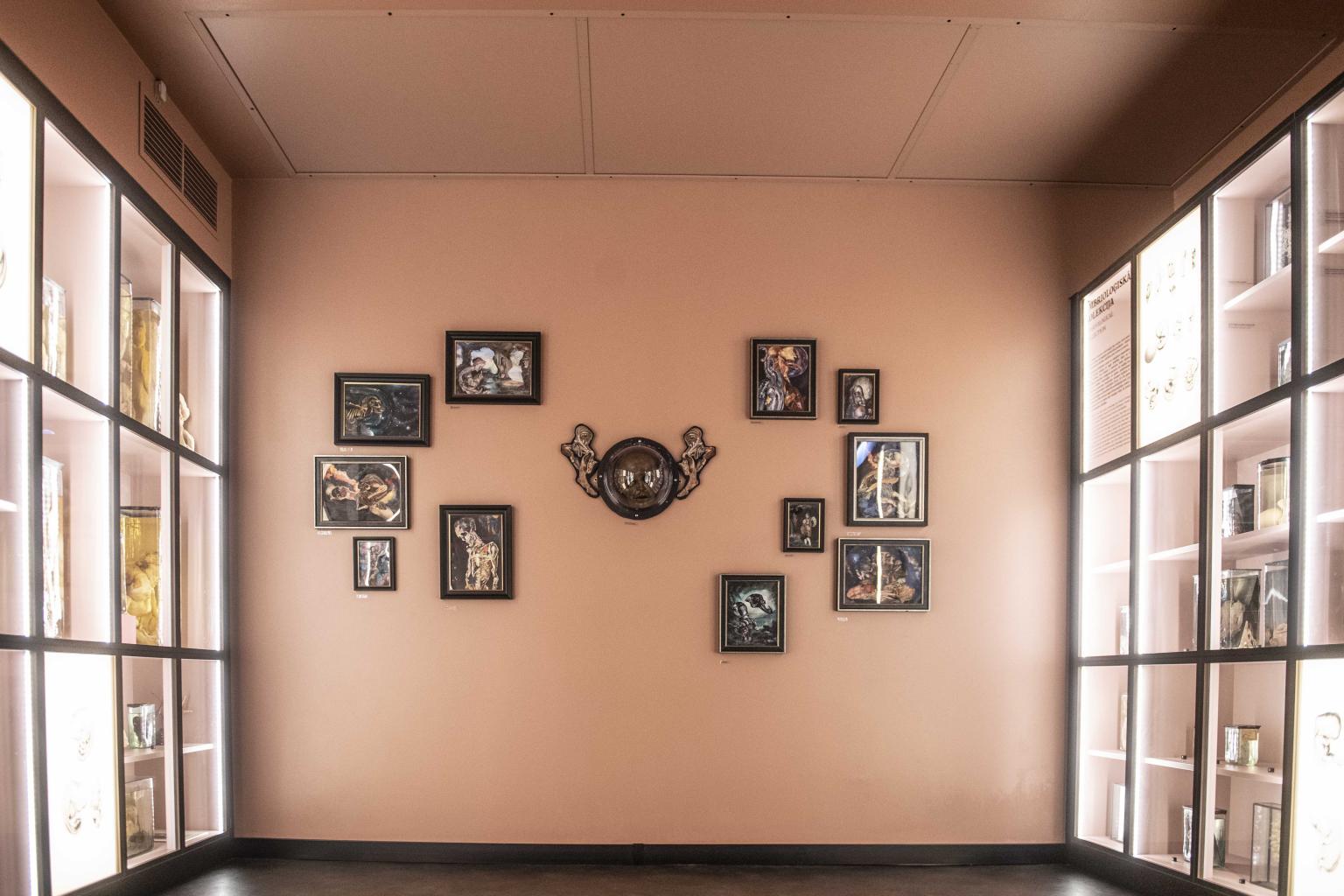 The work created for the exhibition ANATOMY & BEYOND consists of a sculpture and 11 paintings that refer to the origin and adventures of a Renaissance astronaut who, following a mystical vision, left our planet to visit heaven in person and found not the celestial kingdom but a baffling endless geography of galaxies, black holes, nebulae and meteorites.
"The Sybil foretells a birth"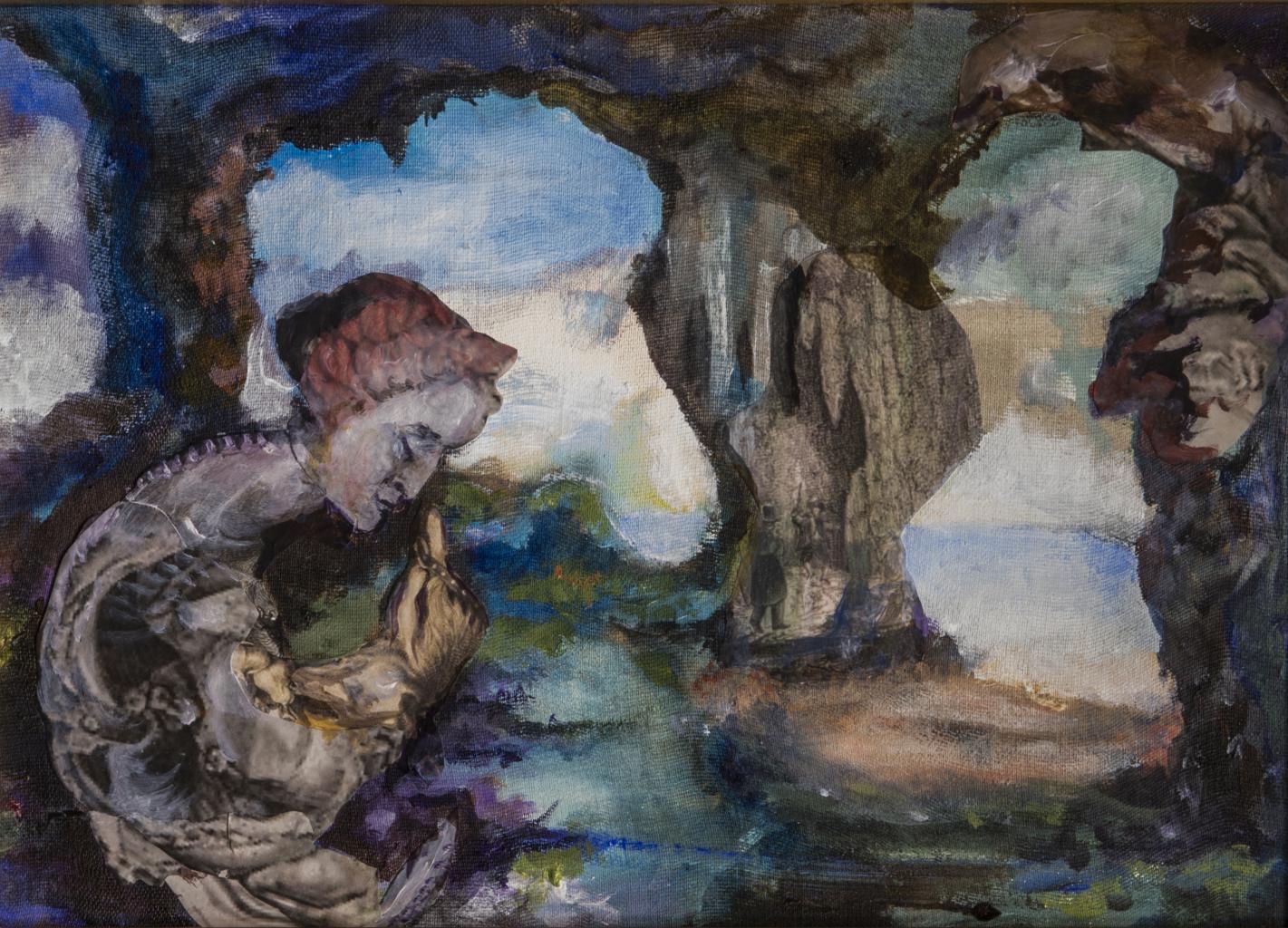 "The body ends the journey begins"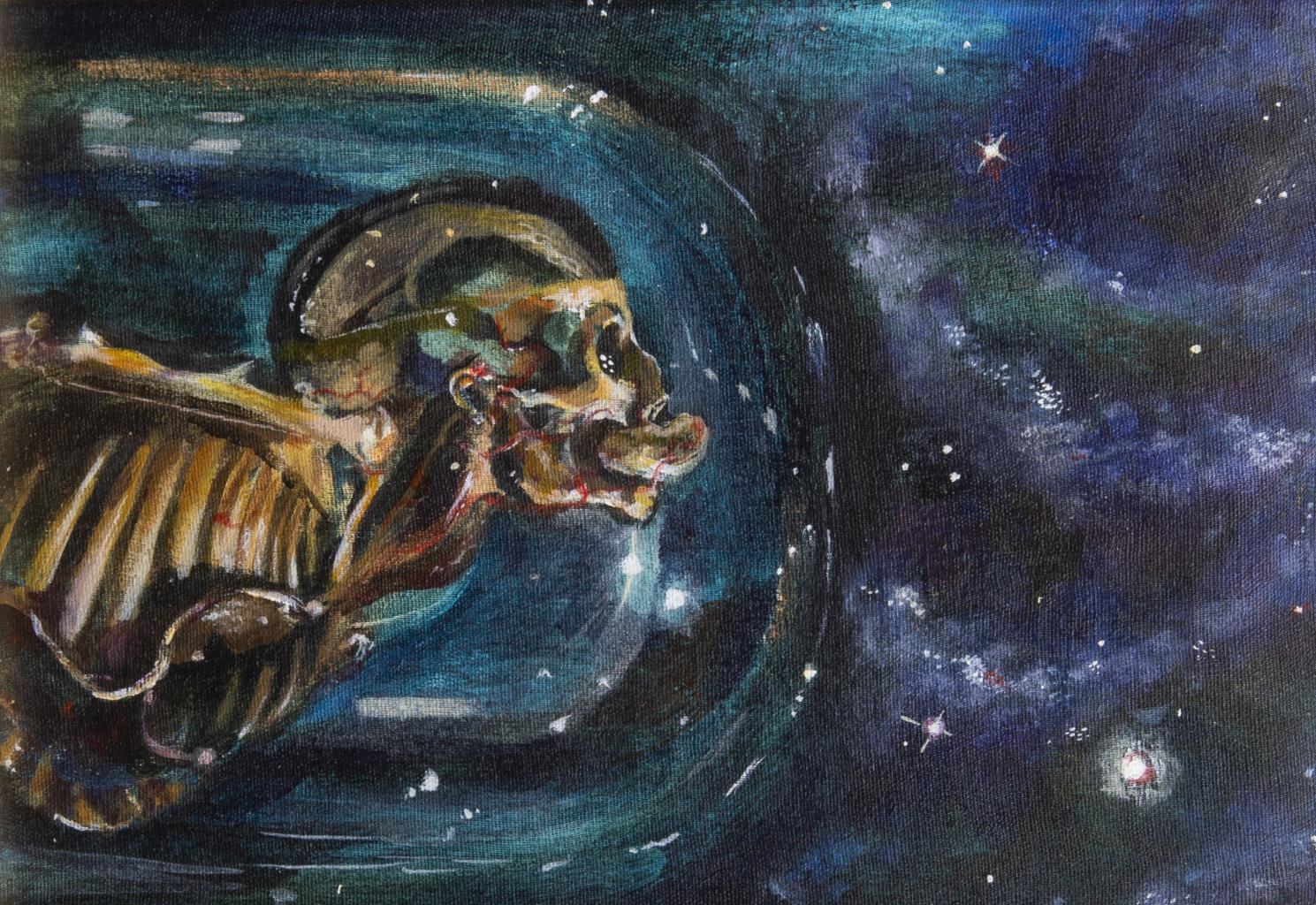 "Ossificans"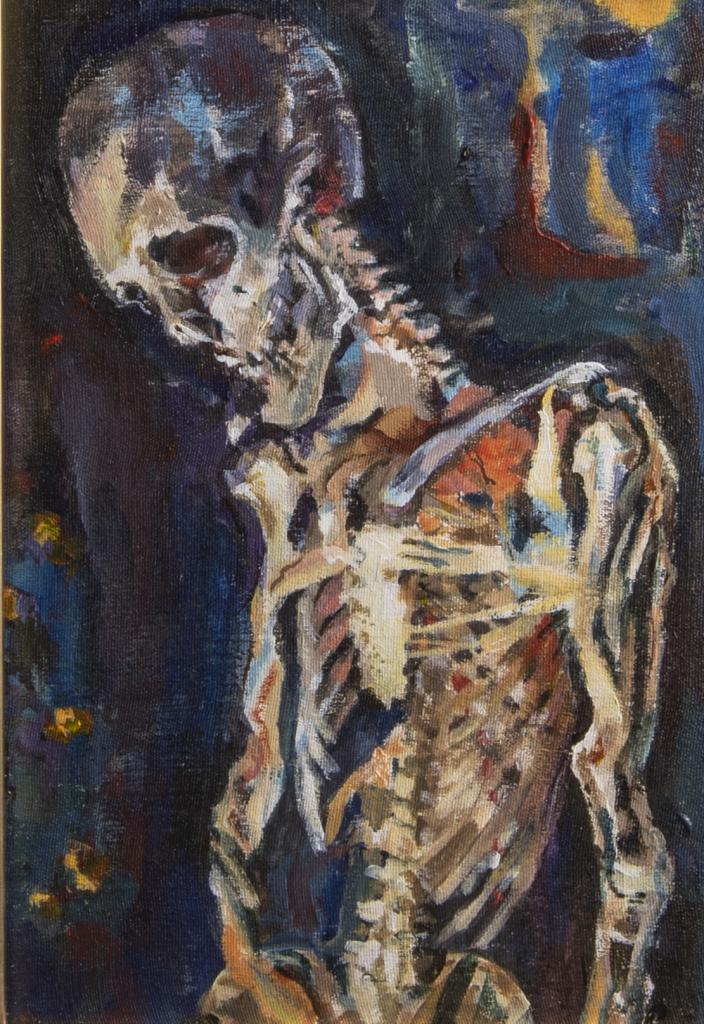 "Evolution: Tides of time"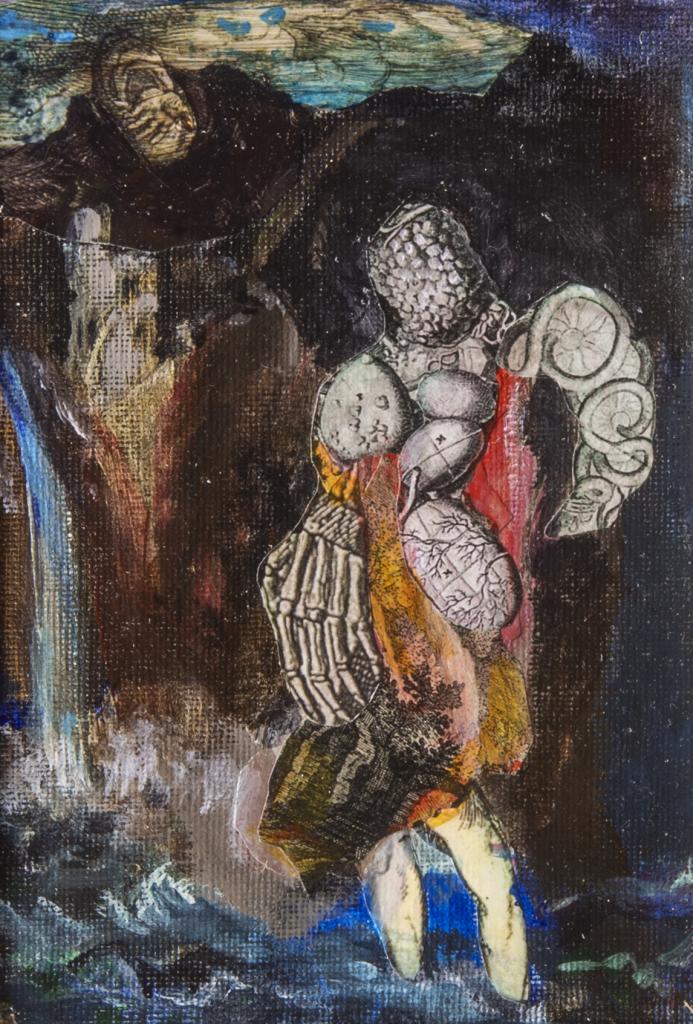 "Canyons of your mind"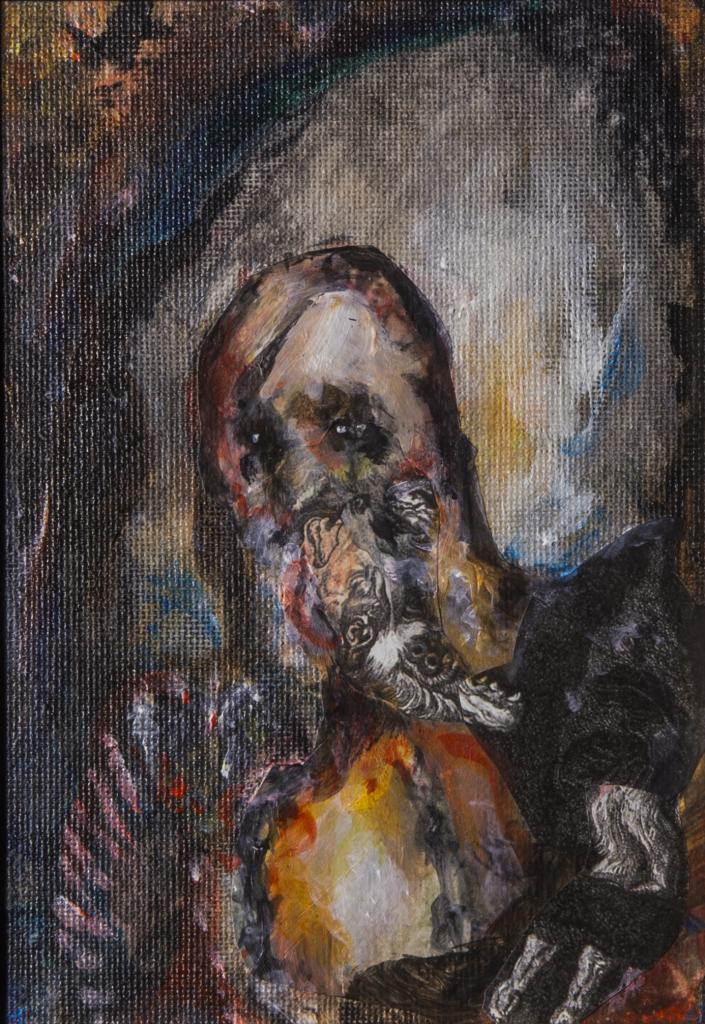 Time expanded as he travelled further and his body evolved through ageing, death, fossilisation and recombination with astral molecules and the very viruses and bacteria that rode with him, to reincarnate him as an ageless voyager with explosive, expansive interstellar anatomy.
'My rationale for this piece is to express humility that at any point in our history our technology is limited by its time and our ambition exceeds our capabilities. The renaissance spaceman is a symbol of human audacity and inventiveness, and also of our mortality and fragility in the enormous time and distance of space travel.
"Triple vision of flight"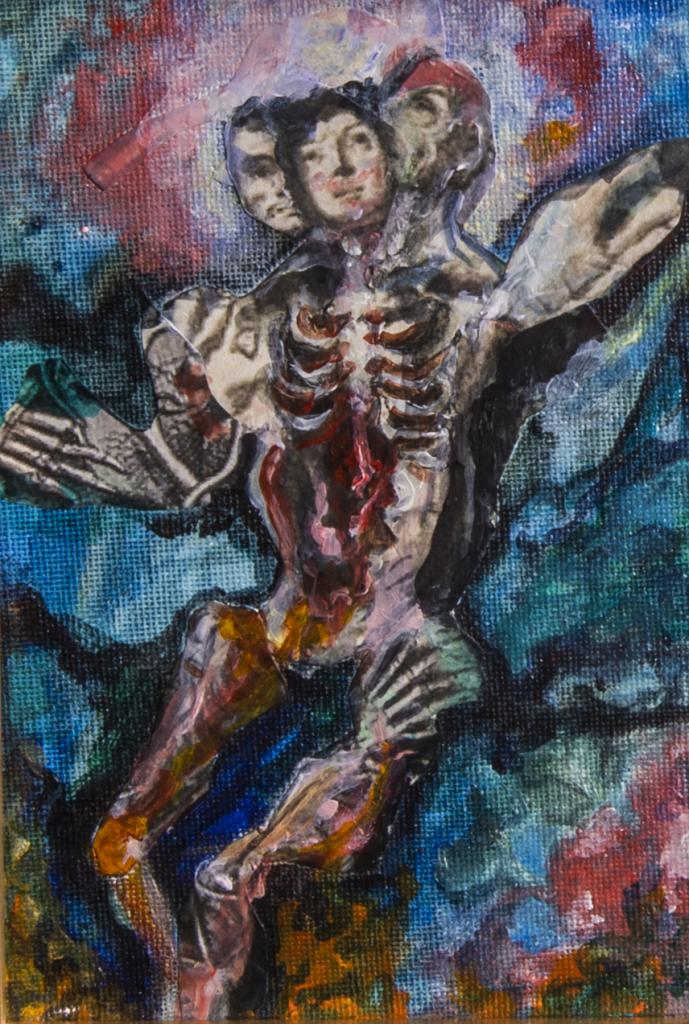 "A mutual inspection"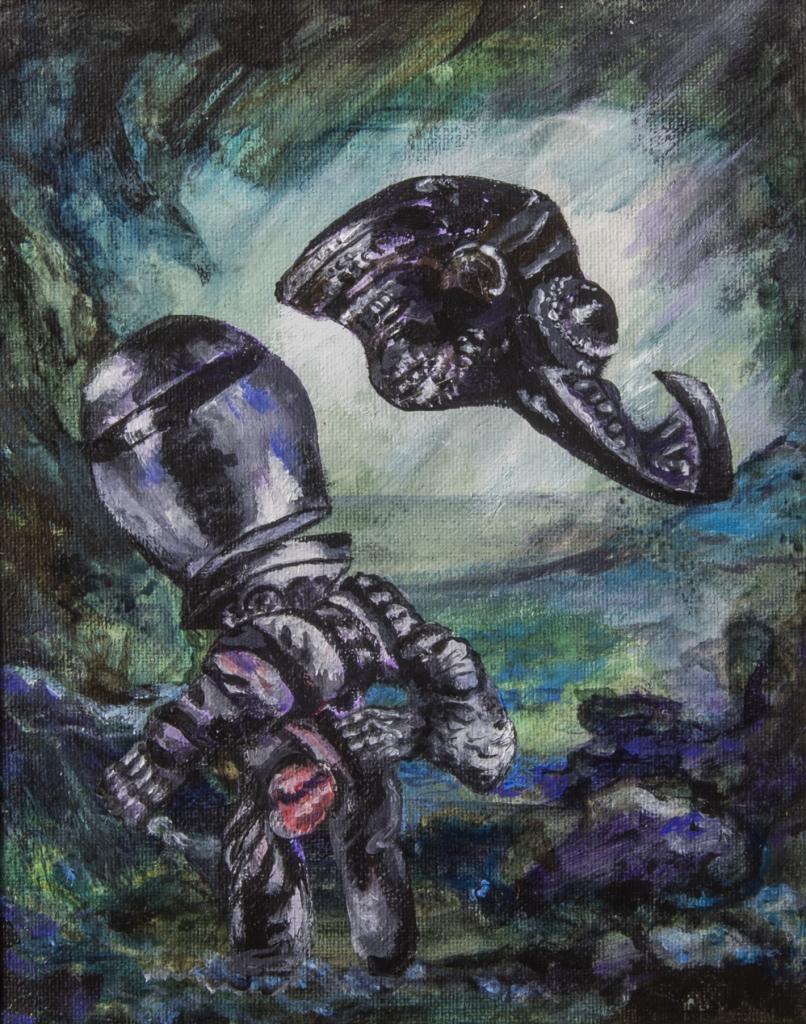 "The body is the armour of the soul"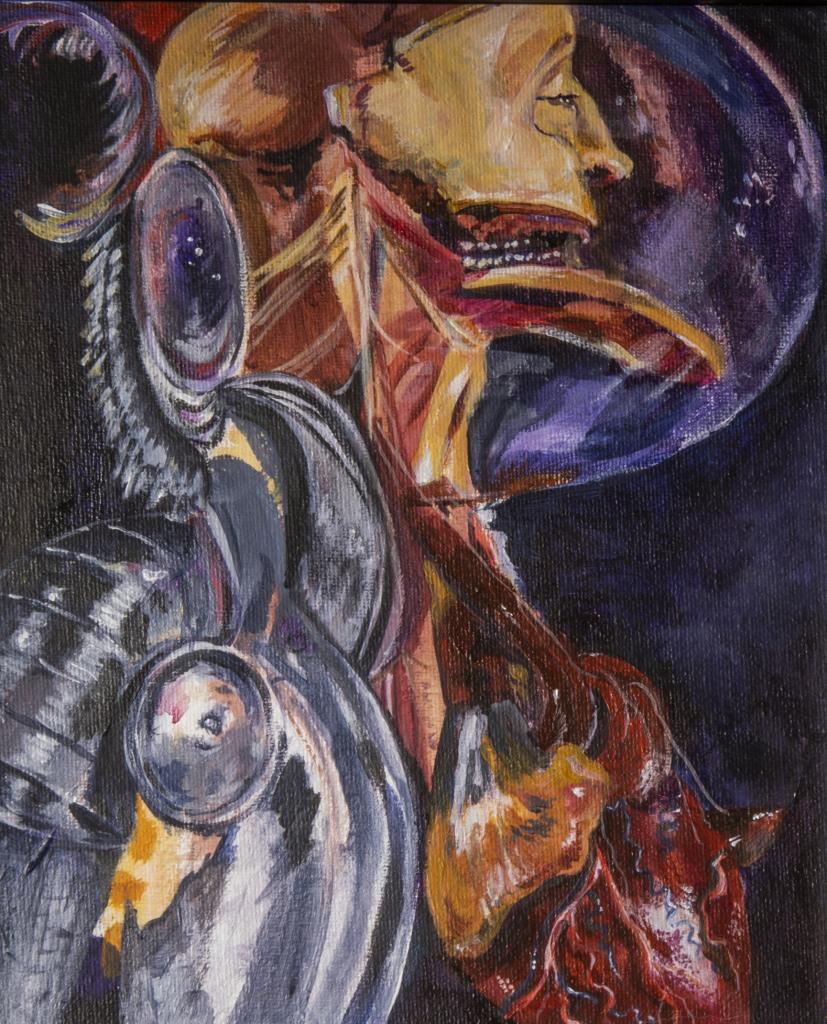 "The body expands in the void"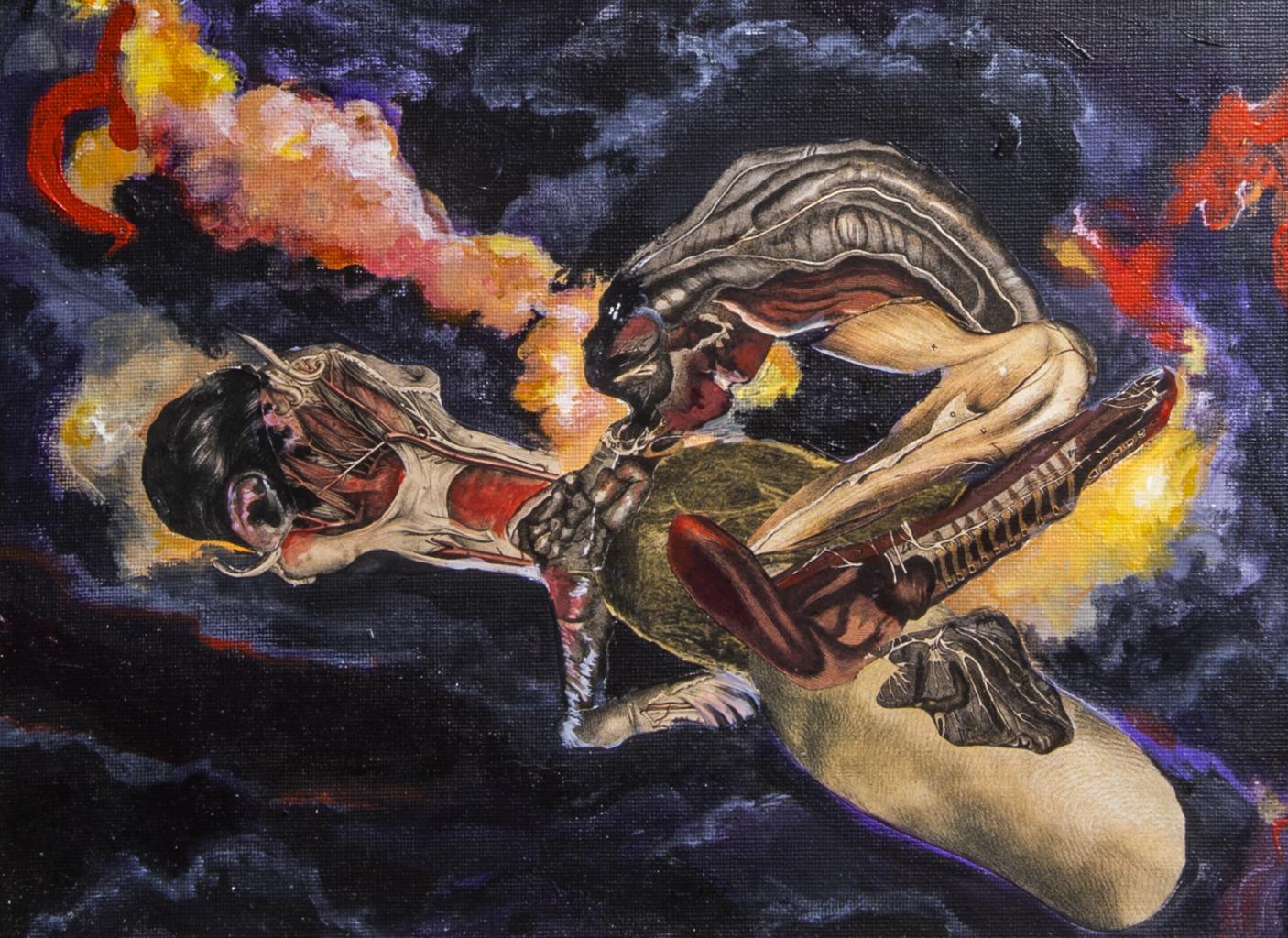 "Archeology of the Self"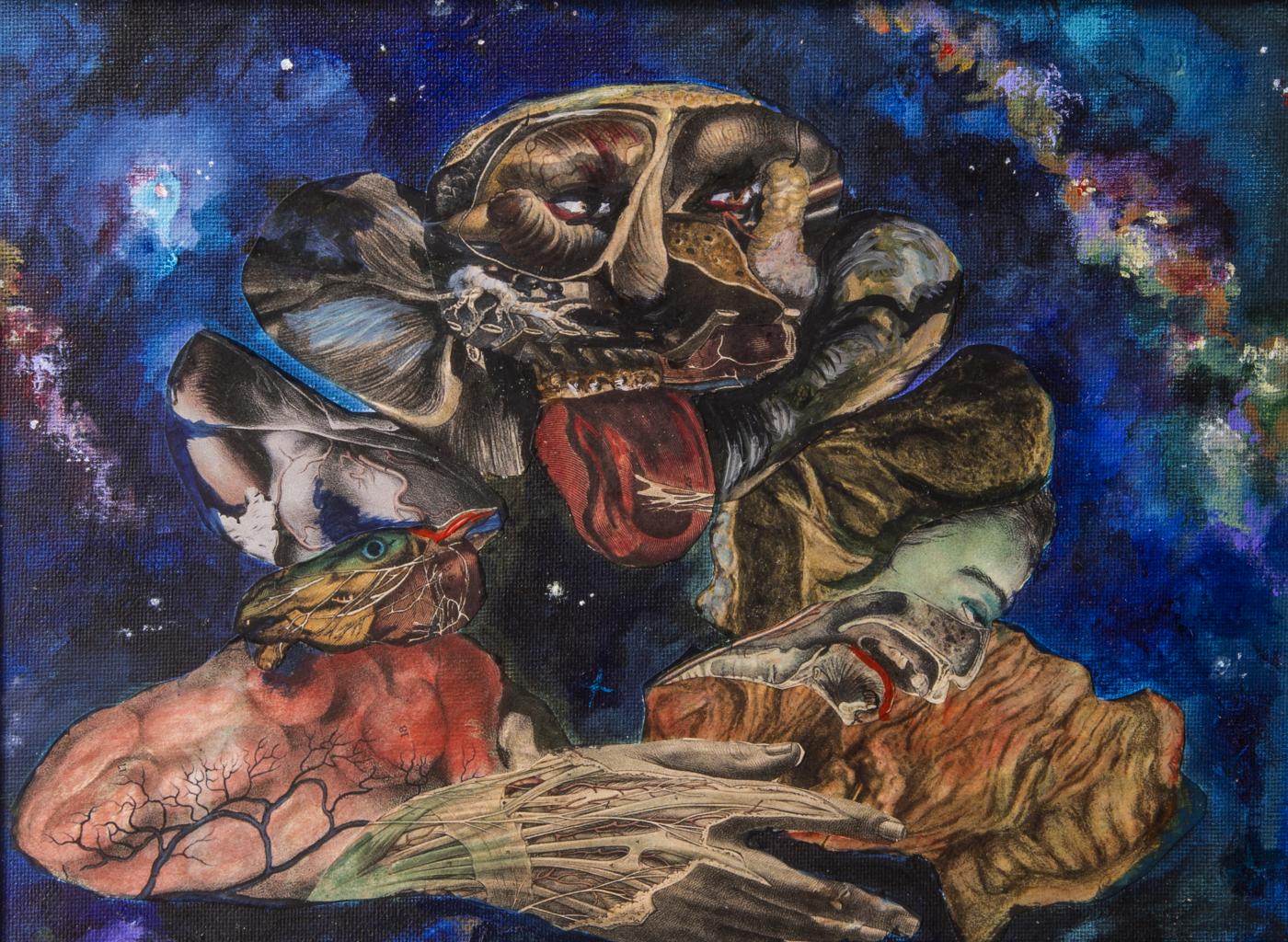 "Archeology of the Self"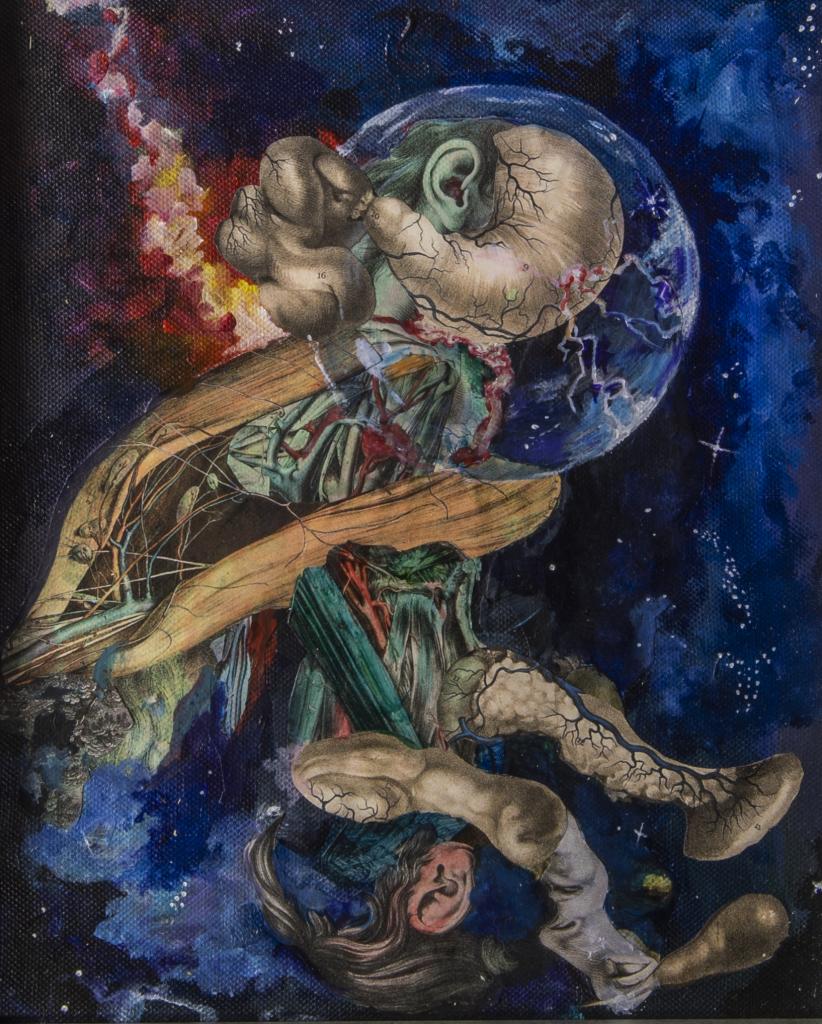 "Relic of the astronaut Athanasius"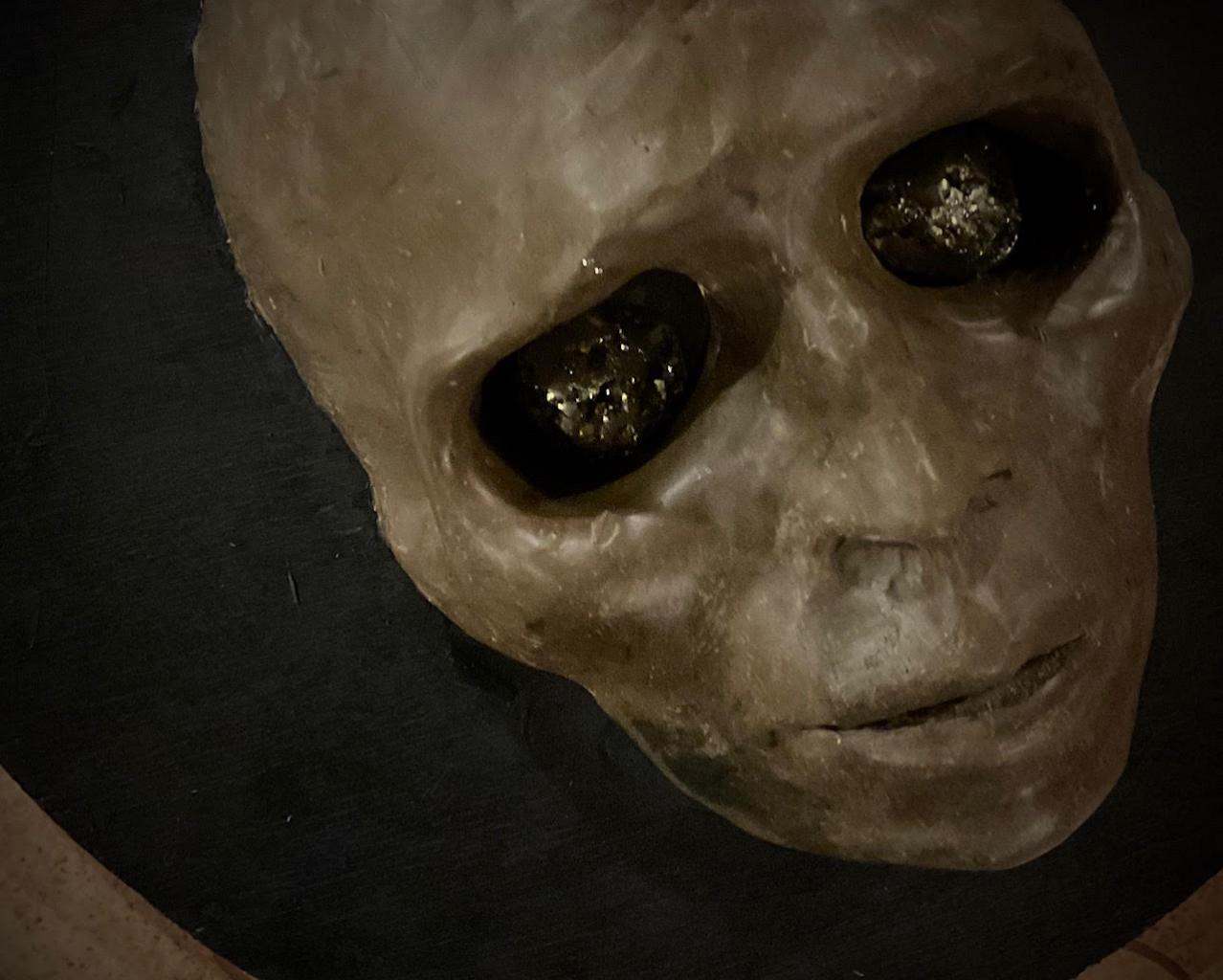 The materials and shapes of the spacesuits in these paintings and sculpture are imaginary. The sculpture is made from simple recycled materials – perspex, wood, wax, pyrite crystals and oil paint. The images in the paintings are partly painted, partly collaged from old anatomical prints. The spacesuits shown are decorative, fictitious, fanciful: if they were real they would be impractical.
'While painting them, I dreamed of what might be the result of a Renaissance engineer's attempt to build a spacesuit. I hope the dream might make it appear that for a limited period of time, by some miracle, the spaceman lived to see the stars.'
On 25 August, the Anatomy Museum hosted the international symposium ANATOMY & BEYOND. You can watch a recording of Eleanor Crook's lecture "How the Future Used To Be" here:
The exhibition ANATOMY & BEYOND will be on view at the Anatomy Museum until 31 January 2022. The exhibition is curated by medical artist Pascale Pollier (Belgium/UK). The exhibition is a collaboration between AEIMS (Association Européenne des Illustrateurs Medicaux et Scientifiques), BIOMAB (Biological and Medical Art in Belgium), ARSIC (Art Researches Science international Collaborations) and MAA (The Medical Artists' Association of Great Britain). The project is supported by the Embassy of Belgium in Sweden and Latvia, the Flemish Government Representation in Poland and the Baltic States, the Vesalius Trust and the Honorary Consul of Belgium in Latvia Dr. Didzis Gavars.