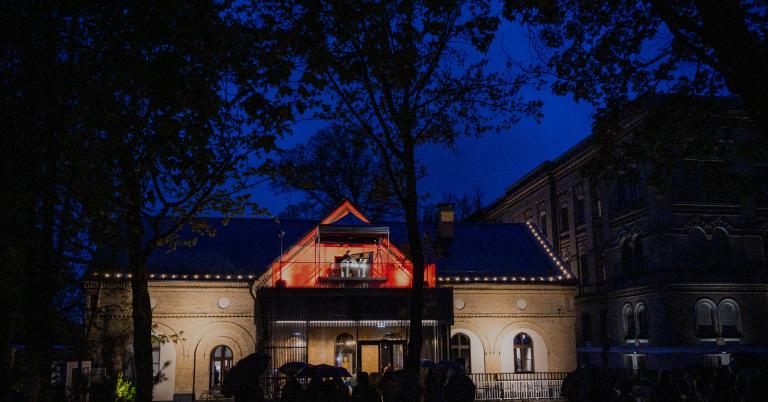 Doors open at 18:00 on the Night of Museums. Join the queue by 22:00 to visit the museum. Don't be late!
During European Night of Museums, the atmosphere in the Anatomy Museum will be enriched by a series of three compositions specially created by composer Jachin Edward Pousson. These unique pieces utilise brain bioelectrical activity (EEG recordings) in the music creation process.
'Music starts and ends in the human brain. It begins in the imagination and ends in the perception. Through the eyes of a musical artist, the EEG signal is a fascinating material to work with. It is complex, densely rhythmic, and it is able to reveal hidden aspects of the human experience. This is also what art does - it reveals something beautiful or important about the human experience,' Pousson says.
Jachin Edward Pousson is a researcher at the Jāzeps Vītols Latvian Academy of Music in Riga. The composer has been developing Brain-Computer Music Interface (BCMI) systems for his doctoral research project for the past few years. These systems transform the electroencephalograph (EEG) signals originating from the brain, and map them to musical or visual outputs in real-time. 
He created the compositions, which will be played for the visitors of the Anatomy Museum throughout the evening, using EEG recordings from three other musicians: pianist Hailong Zhang, saxophonist Arvydas Kazlauskas, and electronic music artist Vadim Pitlan. These recordings were obtained during the musicians' improvisation sessions. Learn more.
Tā kā Rīgas Stradiņa universitāte ir publiska iestāde, pasākuma laikā jūs varat tikt fotografēts un/ vai filmēts. Fotogrāfijas un video var tikt publicēts universitātes mājaslapā, sociālajos medijos u. tml. Vairāk par savām tiesībām un iespēju iebilst pret šādu datu apstrādi varat uzzināt RSU Privātuma politikā. Ja iebilstat pret personas datu apstrādi, lūdzam par to informēt, rakstot uz rsu

rsu[pnkts]lv.
As Rīga Stradiņš University (RSU) is a public institution you could be photographed and/or filmed during the event. Your personal data might be used to further the interests of RSU, e.g. for marketing or communication activities (incl. social media coverage). Read more about your rights see the RSU Privacy Policy. Should you have any objections to your personal data being processed please inform us via e-mail at rsu

rsu[pnkts]lv.